Oreo Milkshake
This post may include affiliate links. As an Amazon Associate I earn from qualifying purchases.
This Oreo Milkshake brings all the goodness of ice cream and Oreo into the perfect balance! Vanilla ice cream, Oreo cookies, milk, and a splash of vanilla is all you need!
We love drizzling some of my Homemade Hot Fudge Sauce on top of this best oreo milkshake recipe! And if you love milkshakes, then bring the ice cream shop home by making more of our best milkshakes like Biscoff Milkshake, Butterscotch Shake, and Nutella Milkshake!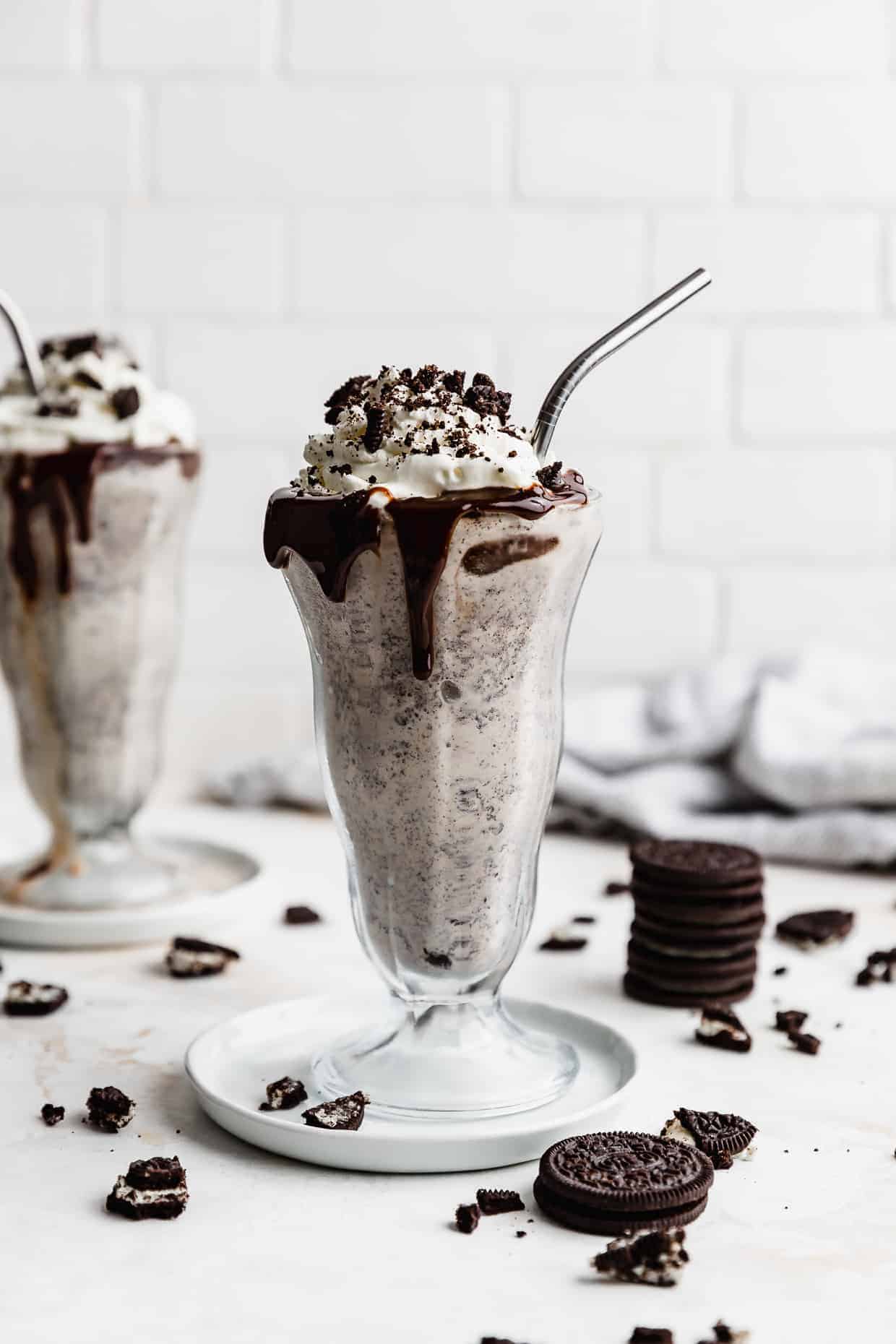 Why This Recipe Works
Best Oreo milkshake. This really is the best Oreo shake recipe! The ratios are perfect — the perfect amount of milk to get that smooth and creamy texture and plenty of Oreos to hit that Oreo flavor home!
Add a splash of vanilla! I know you're probably thinking this isn't necessary since we are using vanilla ice cream, but I promise it will make a big difference.
Easy Oreo milkshake recipe. Whether you need a quick way to cool off on a hot day or you're just looking for a delicious treat for the whole family to enjoy, then make this recipe! Add the simple ingredients to the blender and you're done!
Ingredient Notes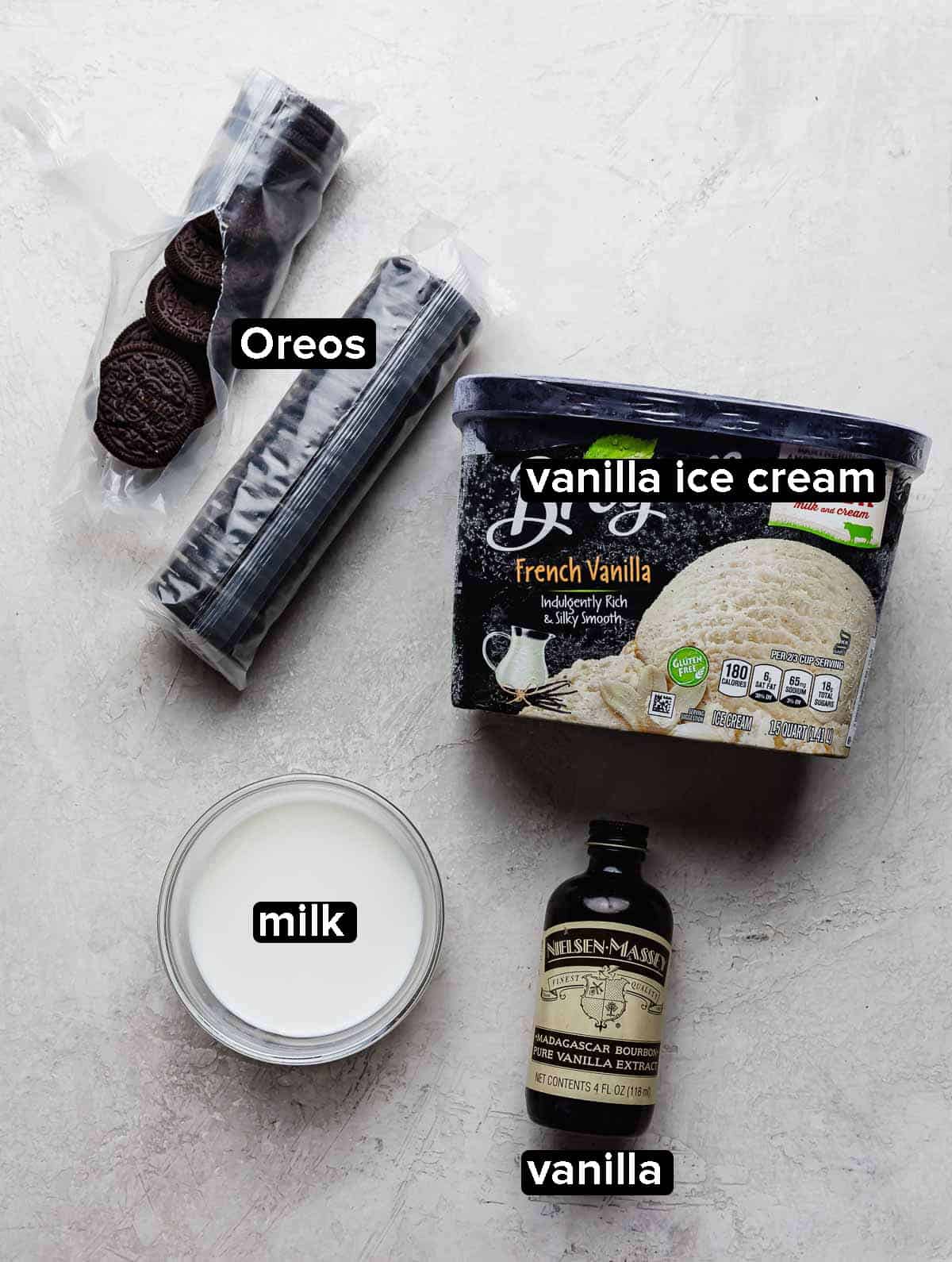 Oreos: I used regular Oreos, but double stuffed is also a great choice. And if you have leftover chunks of Oreo cookies, you can use them to make these soft cookies and cream cookies.
Vanilla Ice Cream: Try out my homemade vanilla ice cream recipe!
Milk: Any kind will work (1%, 2% or whole)
Vanilla Extract: Adding a little extra vanilla goes a long way! (Yes, even though we are using vanilla ice cream!) 
Toppings: Serve this homemade Oreo milkshake recipe with homemade hot fudge, whipped cream, and extra crushed Oreos on top! 
Step-by-Step Instructions
Add ingredients (except for toppings) to a blender. Add 12 Oreos, 4 cups vanilla ice cream, 1/2 cup milk, and 1/4 tsp vanilla extract to a blender. Blend until smooth.
Pour into Sundae glasses and add toppings! Pour the Oreo shake into 2 large glasses or 4 small glasses. Customize with toppings such as whipped cream, hot fudge sauce and crumbled Oreos. Eat immediately. Enjoy!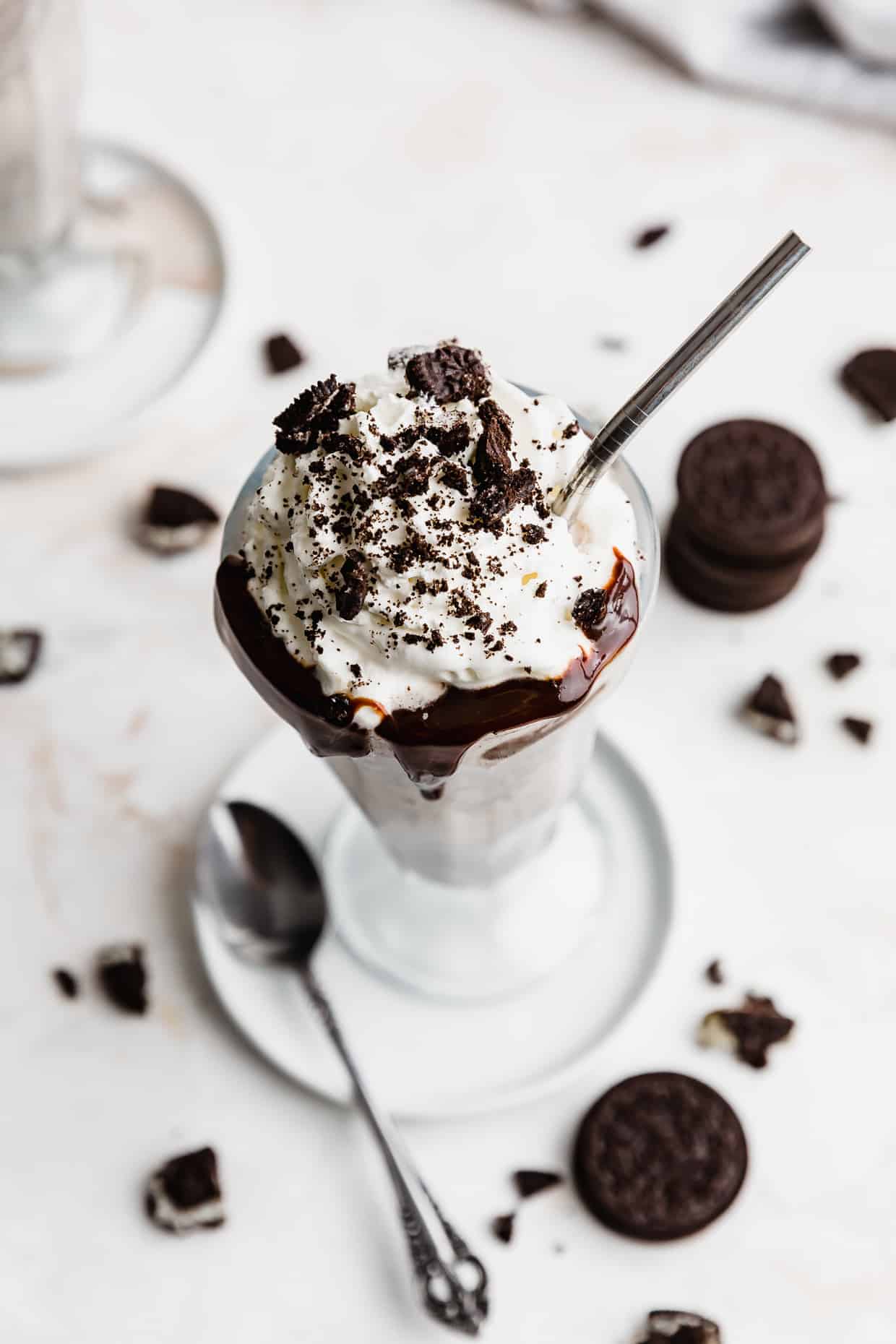 Recipe Tips
I don't get too vigorous with my blending because I like there to be some Oreo chunks. If you don't want chunks of cookie, then blend until smooth.
This is a thick Oreo milkshake recipe! You can eat it with a spoon, or sip through a thick straw. Add more milk or less milk to adjust the thickness of the shake. Just remember you need enough milk for the amount of ice cream so the mixture will blend.
Don't worry about getting your ice cream measured perfectly into 4 cups. Just get enough scoops of ice cream to equal 4 cups worth of ice cream!
Variations: 
Swap out the vanilla ice cream for chocolate ice cream if you want a double chocolate Oreo milkshake (still add the vanilla extract!)
Add a drizzle of caramel sauce on top for a caramel Oreo milkshake.
Use almond milk instead of cow's milk for a healthier option. (Use almond milk if using bananas instead of ice cream to make this a dairy free milkshake)
Use different flavor Oreos! Mint ice cream and mint Oreos would be a fun combination.
Add a scoop of peanut butter for a delicious Oreo peanut butter milkshake
The great thing about this Oreo milkshake recipe is the splash of vanilla. I've told you once, I'll tell you again, you really can't go wrong with a splash of vanilla in any dessert! It really hits home the vanilla flavor and pairs so well with the Oreos.
My kids love a good milkshake! We switch off between Reese's blizzards, a peach milkshake, and this easy Oreo milkshake. There's a tie between the four of us for who likes which milkshake better, so give both a try and let me know in the comments!
Make Ahead, Storing, and Freezing
You won't want to make these delicious Oreo milkshakes ahead of time or they will melt! Even if you make it ahead and store it in the freezer, you'll have to re-blend it to get it back to milkshake consistency.
Store in a freezer-safe container or jar in the freezer for up to 3 months. Remove and let thaw enough to break into pieces and transfer back to the blender. Add some milk and blend to return to milkshake consistency.
Do not store in the fridge or the milkshake mixture will melt.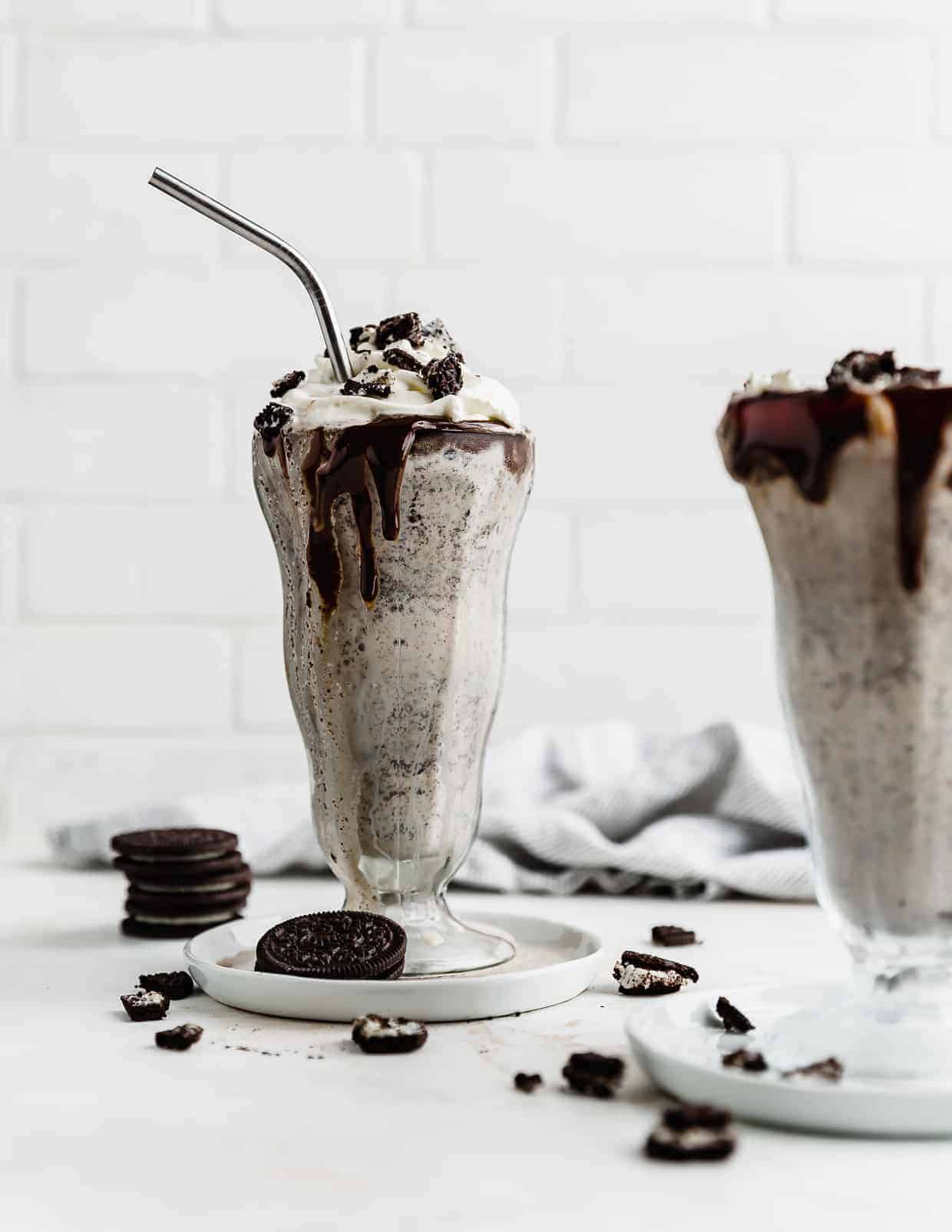 Recipe FAQs
Can you make an Oreo milkshake without ice cream?
Yes, you can. I would use frozen bananas instead of ice cream. Your flavor will be a little different because of the bananas, but that's the best replacement if you want a vegan or dairy-free milkshake. If you use fresh bananas, you'll want to add some ice cubes. 
How to make a milkshake without a blender?
If you don't have a blender, I would let the ice cream get a little soft so it's easier to mix with and put the ingredients in a large bowl and mix until combined. Put the Oreos in a ziplock bag and use a rolling pin to crush them. Then combine with the softened ice cream, milk and vanilla.
How to make a thick milkshake?
To get a thicker consistency, use less milk. However, you'll still need a little bit of the milk to get the mixture to blend in the blender without overheating your blender.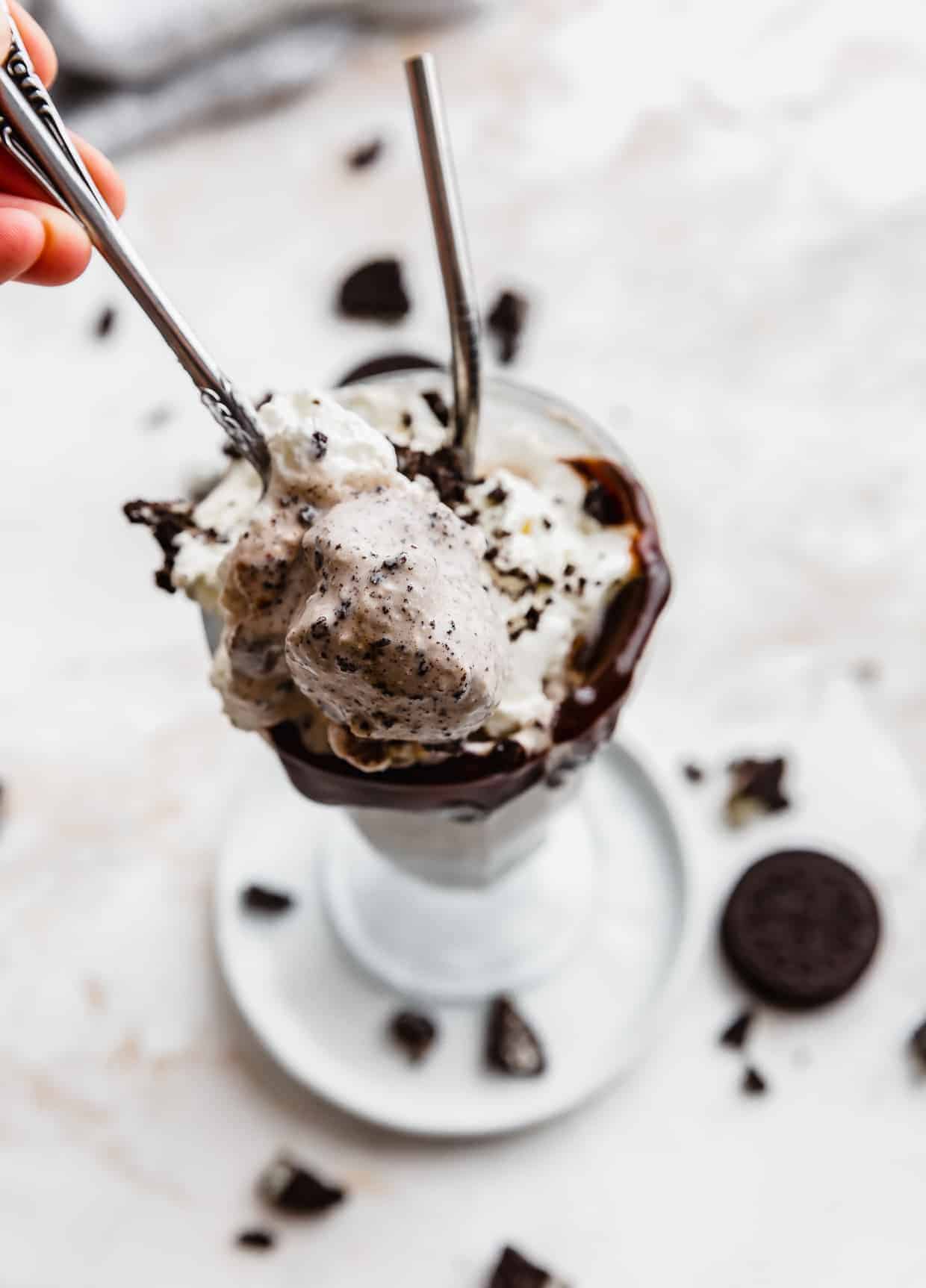 More Frozen Treat Recipes
Oreo Milkshake
If you love Oreo's, you will LOVE this Oreo milkshake. It is the best ever! With perfect porportions of ingredients, this recipe will be one you make over and over again.
Instructions
Add all of the ingredients minus the topping ingredients (hot fudge, whipped cream) to a blender. Blend/pulse until combined. I don't get too vigorous with my blending because I like there to be some Oreo chunks. You can add more milk for a thinner milkshake. 

Pour into 2 large glasses. Top with whipped cream and a drizzle of hot fudge and extra crushed Oreo's. 
Notes
This will make 2 large milkshake servings. Personally, I like to divide it amongst 4 glasses  for my family. But I know some people love their large milkshakes! ❤️
Store in the freezer. Do not store leftovers in the fridge or it will melt. 
Nutritional information is based on 1 serving and does not include the toppings. 
Did you make this recipe?
Leave a star rating and review on the blog post letting me know how you liked this recipe! Take a picture and tag @saltandbaker on Instagram and Facebook so I can see what you're making!