Best Thanksgiving Pies
This post may include affiliate links. As an Amazon Associate I earn from qualifying purchases.
Thanksgiving recipes include some of the best food we eat the entire year, including all the delicious Thanksgiving pies for dessert! I've gathered our best traditional pie recipes, a few delicious pies with a new twist, plus fool-proof pie crust recipes, to give you all your pie needs in one place.
You can also find some tips and tricks for making pies ahead of time, freezing pies, and storing pies at the bottom of this post! Those tips will be helpful to reduce stress in the kitchen this holiday season.
Plus, make a no-fuss Thanksgiving menu by following my Best Thanksgiving Recipes post for all your Thanksgiving favorites!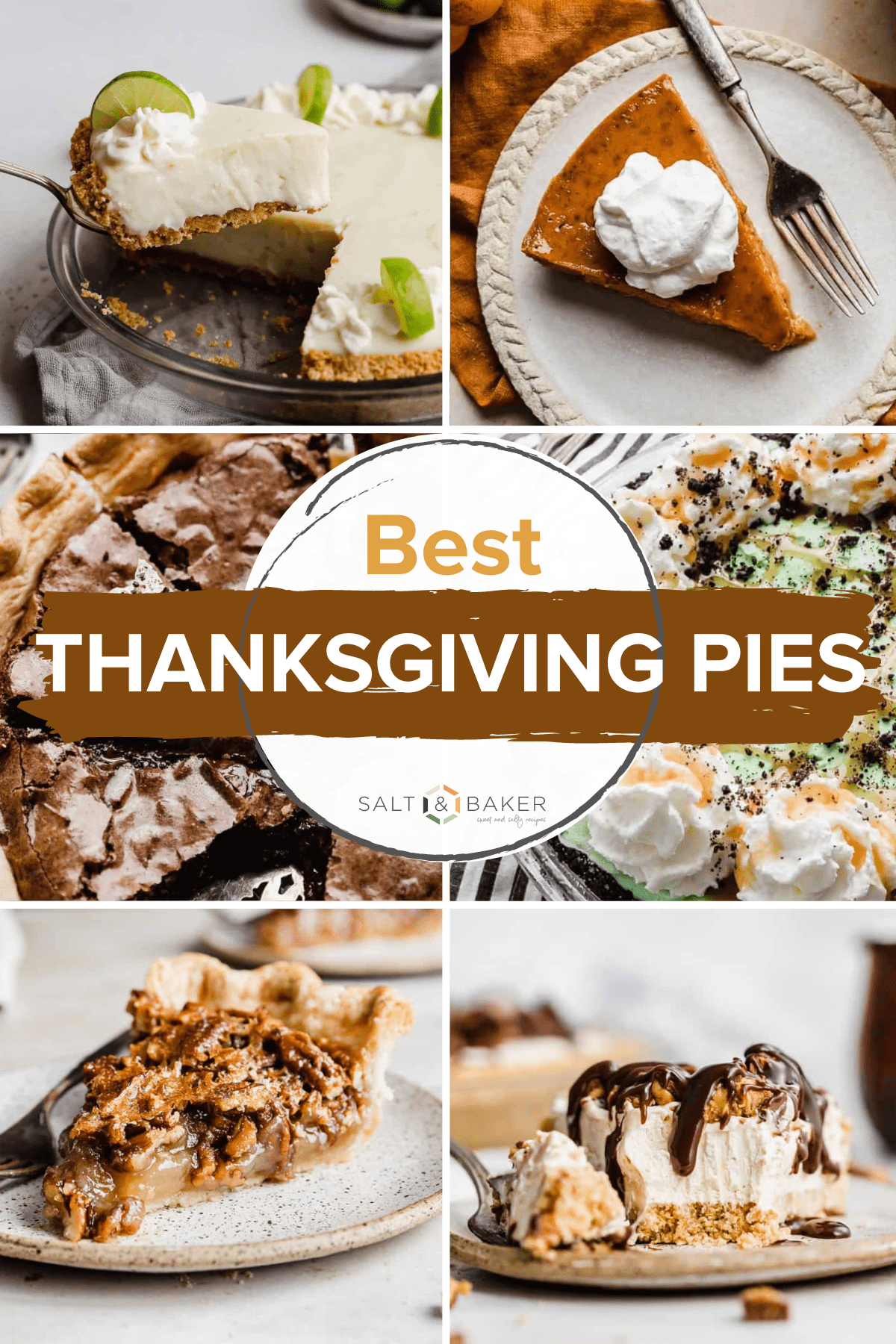 Traditional Thanksgiving Pies
These traditional pie recipes are our favorite pies to have this time of year. They are seasonal pies filled with those delicious fall flavors such as pumpkin, apples, pecans, and more! Here you'll find the best pumpkin pies and best holiday pies around!
Praline pumpkin pie is made with a classic flaky crust, your favorite pumpkin pie filling and then is topped with a brown sugar pecan crumble! It's the perfect combination and gives your slice of pie a nice crunch.
Crustless pumpkin pie is a classic pumpkin pie recipe, but made without the crust! This is perfect for those who are looking for a low fat or gluten free option. Instead of spending time making a gluten-free pie crust, opt for this crustless pie! Just be sure to check that all the ingredients for your pumpkin pie filling are certified gluten free!
Southern pecan pie is a classic Thanksgiving pie at my family gatherings. This traditional recipe has a buttery homemade crust, a deliciously creamy custard on the bottom, and then is topped with that crunchy, sweet pecan pie filling!
French silk pie has become a staple for our Thanksgiving table. We love all the traditional thanksgiving pies that feature delicious fall flavors, but our traditional pies have started to include an indulgent chocolate pie option. And this pie totally fits the bill! It's silky smooth and richly chocolate — perfect for all you chocolate lovers!
This salted caramel apple pie recipe has a buttery crust and a delicious caramel apple filling. It is perfect served with a scoop of ice cream!
Non Traditional Thanksgiving Pies
We all love those delicious fall flavors in our Thanksgiving day dessert table (I always have a slice of Thanksgiving pumpkin pie each year), but I find that it is super fun to mix things up and have a few homemade pie recipes that are typically uncommon to see at a Thanksgiving feast! Sometimes these end up being the best holiday pies that every has seconds of.
Key lime pie is a delicious zesty pie recipe and is a great way to add a tart recipe to the holiday celebration! I made this pie for last Thanksgiving and the whole pie was gone in minutes! Everyone loved it!
Bannoffee pie is a great option for banana cream pie lovers. There's a delicious dulce de leche toffee layer, fresh sliced bananas and a creamy whipped cream topping. It's a classic recipe with a fresh fruit element!
No bake peanut butter pie is the perfect make-ahead dessert for peanut butter lovers. I like making this recipe even a few days in advance because you can just store it in the freezer! Remove it day of and top it with Reese's peanut butter cups and hot fudge and it's ready to serve!
Biscoff pumpkin pie is a delicious spin on classic pumpkin thanksgiving pie recipes. It's a no-bake pie made with pumpkin puree, biscoff cookie butter, fall spices and whipped cream!
This classic lemon meringue pie is a classic pie for Thanksgiving in my extended family! I have an aunt that totally nails this recipe every time. It is the best pie for those who love lemon flavors and smooth textures!
On that same creamy pie topic, we have this delicious coconut cream pie recipe! It's packed with delicious coconut flavor.
Oreo pudding pie is another great pie to make ahead of time and store. Serve with some whipped cream or vanilla ice cream! I'm a big Oreo fan so it's fun to add an Oreo pie to the big day!
And in case one Oreo pie wasn't enough, this asphalt pie recipe is one of the best Thanksgiving pies because all you need is an Oreo crust, mint chocolate chip ice cream, whipped topping and some caramel sauce. No baking, just assembling and you're done! You can even opt for a store-bought crust to make it one of my favorite easy pies for Thanksgiving.
If you follow Salt & Baker then you know my deep love of brownies! So of course I had to do a recipe that turned delicious brownies into pie! This brownie pie recipe is deeply chocolate, made with a flaky crust and has the iconic crackly top we love to see in brownies.
This chocolate chip pecan pie is a fun twist on a traditional pecan pie recipe. The added chocolate chips is a nice touch to entice those who maybe wouldn't opt for it otherwise. Use dark chocolate chips for a delicious dark chocolate pecan pie!
Pie Crust Recipes
This is my go-to graham cracker crust recipe. It's perfect every single time and you can either bake it or chill it! It's great for pumpkin pies, chocolate pies, peanut butter pies, fruit pies and more!
My all-butter pie crust recipe is made in the food processor to really help speed things up and simplify prep. This recipe makes enough for 2 pie crusts, so you can get two pies in one go!
Oreo pie crust is a great option to use for chocolate lovers! Where you use graham cracker crusts, you can almost always swap it out for an Oreo crust.
Biscoff pie crust is a fun cookie crust option to use for some of those spiced pie recipes. It also pairs well with chocolate flavors, so don't let that limit you!
Preparing Pies in Advance
There are so many tricks to help lighten the load on Thanksgiving Day food preparation! Make pies in advance is one of them. Here are some steps for how to prepare pies in advance:
Make your pie crust ahead of time. Whether it's a graham cracker pie crust or a butter pie crust, you can make the crust ahead of time so you aren't spending as much time on the day of.
Chilled pies vs. warm pies. The trick is to know what pies store well in the fridge and which should be served hot. If you are serving apple pie, you'll want to make that pie the day of so you can serve it warm. If you are serving a chilled pie like key lime pie or chocolate cream pie, those you'll want to make ahead of time so they can be fully chilled prior to serving.
Make a variety of pies. What I mean by this is, make a frozen pie like my frozen asphalt pie a few days before (or even a week before!). Then make a chilled pie the day before (like my no-bake peanut butter pie) and then make a pie you'll serve warm on the day of (like a salted caramel apple pie). This will make things much easier than having to make three or so warm pies the day of!
How to Store Pies
Pies to Store at Room Temperature
Fruit pies made with sugar can be stored at room temperature for 1-2 days.
If you make crusts ahead of time, you can store a cookie crust (like a graham cracker or Oreo crust) at room temperature for 2-3 days or in the fridge for 3-5 days.
Pies to Store in the Fridge
Any pie that has dairy or eggs in it should be stored covered in the fridge. This includes pumpkin pies, pecan pie, no-bake pies, etc. However, as a general rule of thumb, all pies will keep better and longer if stored covered in the fridge.
How to Freeze Pies
Freeze a butter pie crust before baking it. Once the pie crust is set in the pie pan, freeze it for 1-2 months prior to baking. When ready to use, remove from the freezer and bake as directed.
For freezing a pie you're going to bake, freeze it prior to baking. Let flash freeze in the freezer until set (about 30 minutes). Then remove from the freezer and double wrap in plastic wrap, then single wrap in aluminum foil. Store in the freezer for 1-2 months. For fruit pies, remove from the freezer and bake from frozen.
For freezing no-bake pies, if they'll have whipped topping on them when you serve them, freeze without the whipped topping. Flash freeze until set and then double wrap in plastic wrap and single wrap in aluminum foil and store in the freezer for 1-2 months. Let thaw at room temperature until it is chilled but no longer frozen. Top with whipped topping and serve.