Kid Friendly Meals
This post may include affiliate links. As an Amazon Associate I earn from qualifying purchases.
When it comes to kid-friendly meals the whole family will enjoy, I have you covered!
Whether you are dealing with picky eaters, busy weeknights, or merely needing more simple meals in your life, there are tons of easy dinner ideas here that will be a huge hit with the entire family!
Getting kids to eat is a challenge! I know this because I have 3 kiddos at home. The last thing I want at the dinner table is whining and complaining. You too? Ok good. Let's make easy dinner recipes that everyone loves, kids AND adults.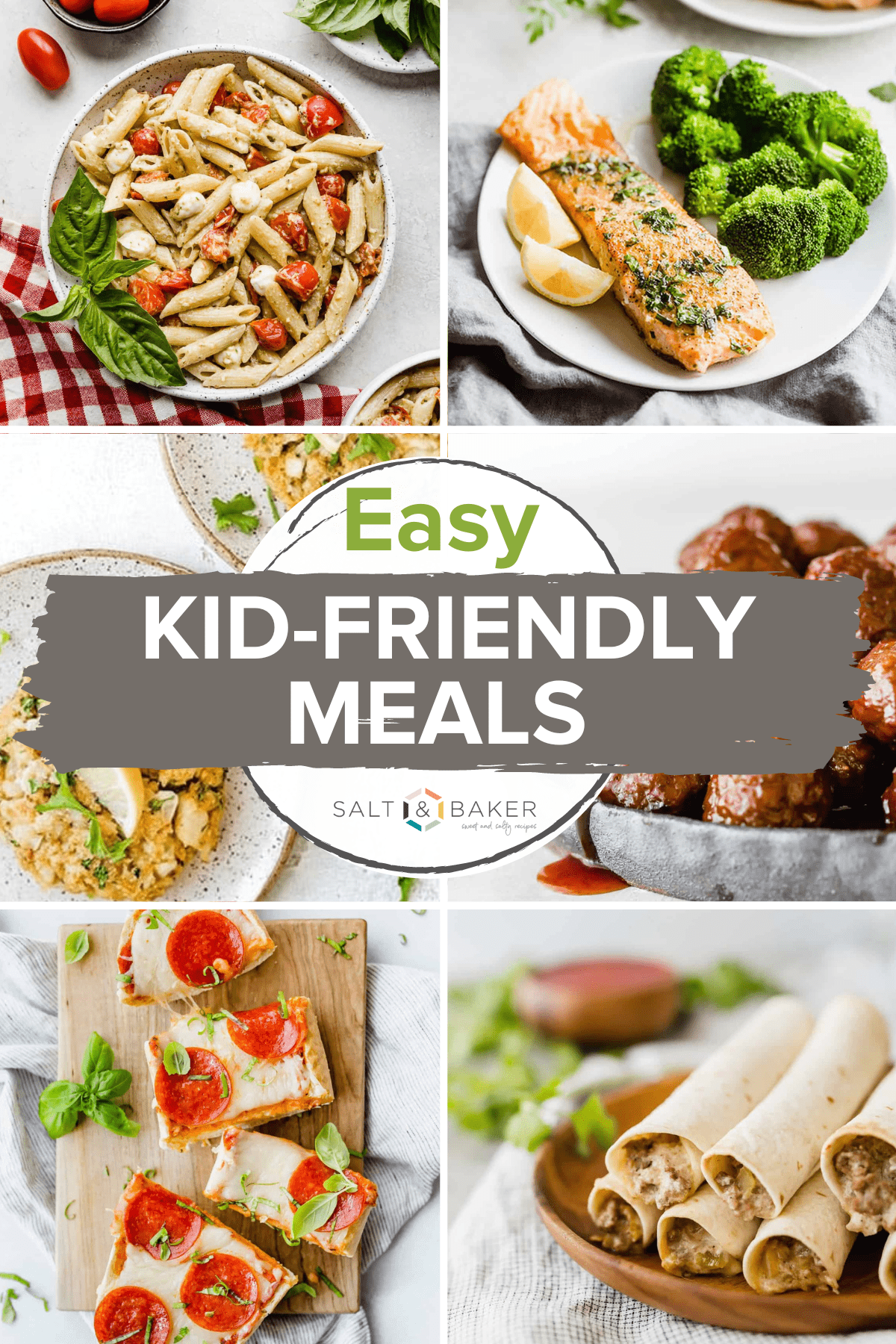 This homemade red pesto sauce is amazing! It's super simple to make! Add all the ingredients to a blender and you're done! It has so much flavor and is always devoured by my kiddos. 
These chicken taquitos are crazy good! My son will devour these! I like to serve them alongside my creamy cilantro salsa dressing <–recipe included in the post. These baked chicken taquitos are the perfect dinner recipe. They're easy to make and everyone loves them!
Possibly the easiest and most affordable meal you'll come across… this French bread pizza will satisfy the pickiest of eaters. Dinner has never been easier! These French Bread Pizzas are easy to make and loved by everyone!
Surprisingly salmon is my 4 year olds meat of choice. He loves fish! If your kids struggle with salmon, make this lemon honey glazed salmon recipe; they won't even be able to tell they're eating fish.
This Pesto Pasta with Tomatoes only requires a few ingredients and takes minimal time to prepare. It's a great pasta recipe to make because you can add fresh ingredients for your kiddos! Perfect way to boost nutrients while still serving them something they'll love.
If your kids like fish, they'll love these! And even if they don't like fish, they won't be able to tell that's what they're eating. These tilapia cakes are loaded with fresh parsley, onion, celery, and a pinch of red pepper flakes to bring a subtle but welcome burst of heat! Topped with a smear of mayo for added flavor, these tilapia cakes are moist and crazy flavorful.
Served along side a bed of rice, these BBQ pineapple meatballs are an easy and satisfying meal. These Hawaiian meatballs make for the perfect dinner or appetizer! 
Basic ingredients and subtle flavors are what this pasta dish is all about. The creamy lemony flavor is fresh and refreshing!
Bowtie pasta served with a creamy garlic Alfredo sauce, tossed with crispy bacon, diced tomatoes, and chicken. This recipe isn't lacking in flavor! This recipe is a copycat version from a famous restaurant in my hometown. Trust me, everyone will want seconds.
I've made this recipe for over 15 years, it's one my family loves and requests monthly!
This recipe can be considered an appetizer or main course. When making this for dinner I will serve these juicy meatballs over a bed of rice. This recipe uses 3 ingredients… and it's made in the slow cooker (double win)! It's so easy and really really good!
This pizza casserole is really easy to make and it makes quite a bit. I love that it tastes just like pizza (if not better) and if you have a small family you'll have leftovers to enjoy the following day.
These taquitos are crispy on the outside and filled with a creamy meat mixture on the inside! We love to serve these with a side of broccoli.
I'd love to hear what your favorite kid friendly go-to dinner recipes are! Leave a comment below.