Foodie Gift Guide 2019
This post may include affiliate links. As an Amazon Associate I earn from qualifying purchases.
Welcome to the 2019 Salt & Baker Foodie Gift Guide! You can also refer to this as the "Kitchen Essentials" gift guide. I went through my kitchen and selected my most used (and most loved) kitchen items.
In addition to my classic baking sheets, these items are ones I use all the time! 
The product links below are affiliate links, none of which have been sponsored by the brands. All opinions are my own. If you want to purchase one of the items, I'd love if you purchased it via my link as this supports Salt & Baker, which in turn allows me to bring you delicious recipes every week.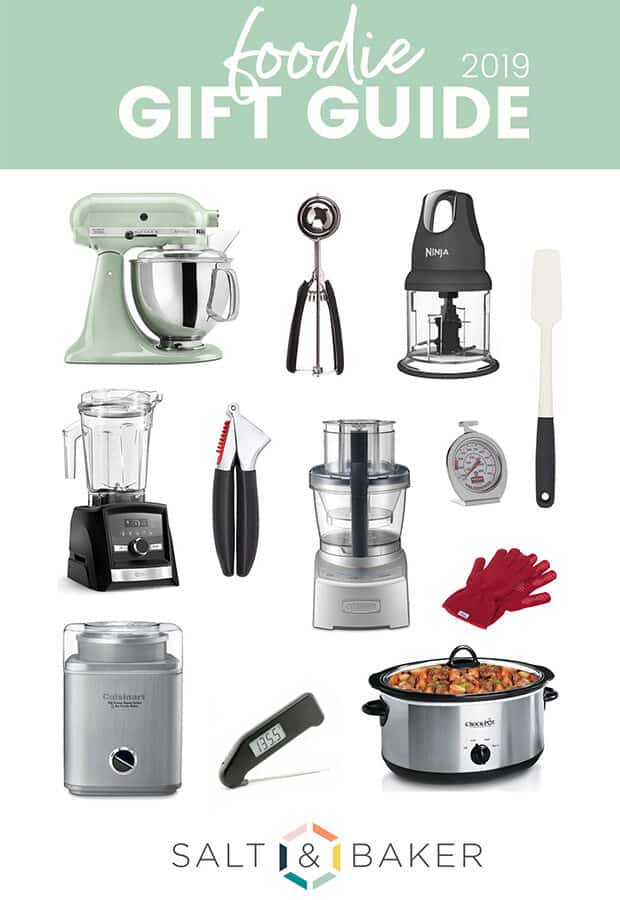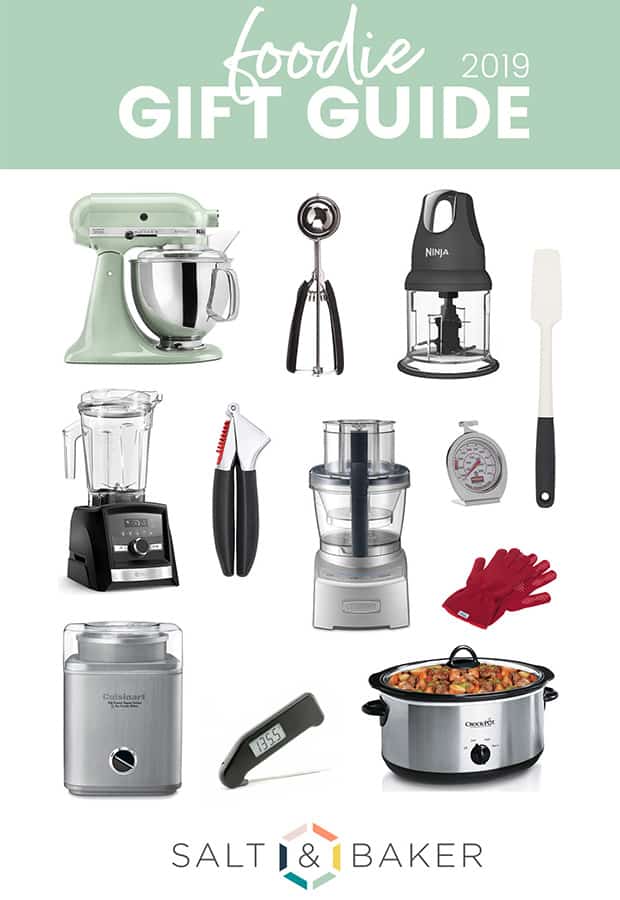 Kitchen Aid stand mixer. I love, love, LOVE my stand mixer!! I use it 3-4 times a week. If you don't have a stand mixer, I highly suggest you purchase one. You'll fall in love instantly. Here are just a few of the many recipes that utilize this beautiful kitchen item:

French Silk Pie – you'll definitely want a stand mixer when making this recipe.

Oven mitt gloves. While these don't win the prize for "most fashionable", they are easily one of my favorite kitchen items! If you bake at all, you'll love these!
Oven thermometer. I can't emphasize this enough, but having an oven thermometer is so important! If a recipe says "bake at 350°" it means the oven temp should be 350°F. Thanks to my oven thermometer I know that my oven runs 10 degrees cooler than what's noted on the oven dial.
Handy dandy Ninja. As much as I love having a food processor, I use my Ninja on a regular basis. It's small and easy to clean (unlike the food processor). The one thing I use it for the most? Crushing graham crackers. It's seriously THE BEST for this reason alone. Here are a few recipes you can make using the Ninja:
Vitamix. This is a powerful blender! It's expensive, yes. However, it will stand the test of time and it gets the job done… and it will do it well. My favorite recipes I use my Vitamix for:
Large OXO cookie scoop (3 tablespoons). Do you love big, gooey, soft, and thick cookies? I do. Or perhaps you enjoy baking cupcakes and muffins? This scoop is the perfect scoop for portioning out muffins or cupcakes in a muffin tin. I also use this cookie scoop when make large cookies. Here are some recipes that utilize this cookie scoop:
OXO thin rubber spatula (AKA the best spatula ever). I use this thing all the time. Probably every day actually. It's heat proof up to 600°F, so it can withstand just about anything! I own 2 and wish I owned 4.
Food processor. While these can take time to clean, they're definitely worth owning. Lots of recipes utilize a food processor, here are a few:
Thermapen MK4 Instant Read Thermometer. I will admit, having an instant read thermometer is very important! You might hesitate because of the price, but I will say this brand and product is my all time favorite! You will use it more than you think. I find myself using it every time I cook meat and when I make bread. (Or perhaps you like to make candy or toffee… you'll want a thermometer!)
Slow cooker. This is the slow cooker I use and I love it. Nothing fancy about it, it's just a traditional, high quality, reliable slow cooker. My favorite recipes to make in my slow cooker include:
Ice cream maker. Nothing compares to silky smooth homemade vanilla ice cream or rich and creamy raspberry sorbet. The secret to achieving the mouthwatering frozen dessert is to use a reliable ice cream maker that will churn the ice cream.
Garlic Mincer. It doesn't get more basic than this. A garlic mincer is one kitchen gadget that is absolutely necessary. If you don't have this in your kitchen, I highly recommend you get one. So many recipes call for minced garlic! And this garlic mincer is my favorite. I own 1 but wish I owned 2. I usually have to pull my garlic mincer out of the dirty dishwasher, wash it by hand, and then proceed making a recipe because I use it so often.
I hope you enjoyed seeing some of my MOST used (and favorite) kitchen items.
If you use Pinterest, feel free to pin the graphic below to remind you of these items.
Pin for later: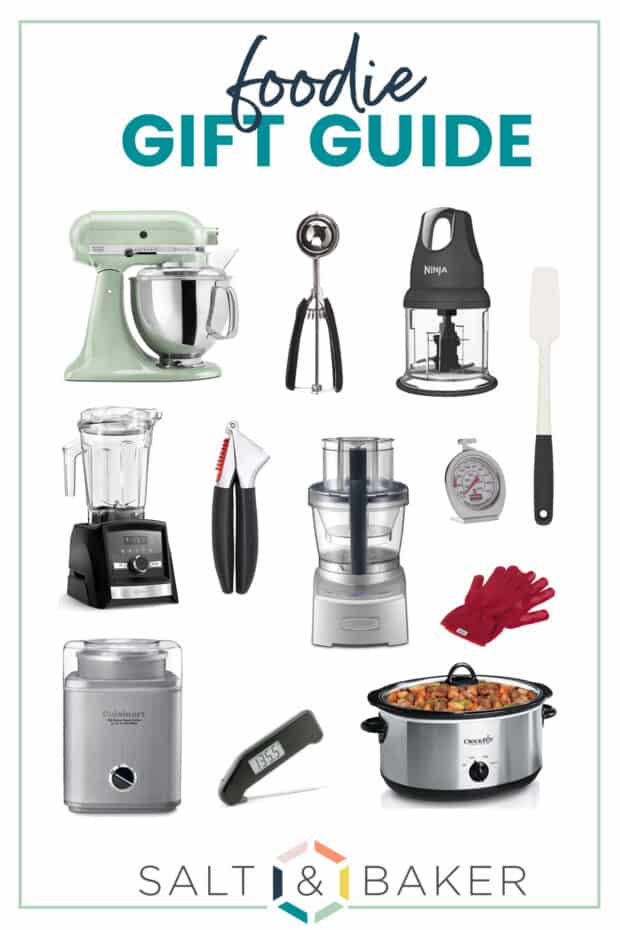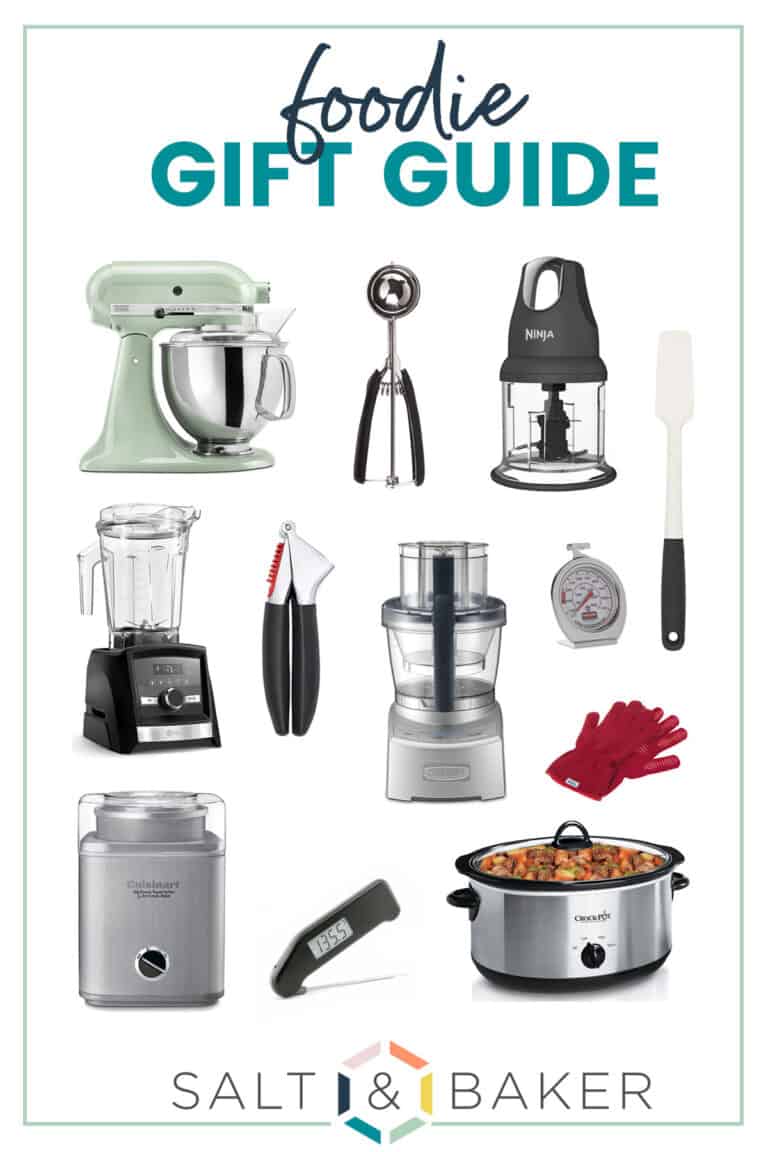 xoxo Whitney